Genesis
2022 х 2021
Service for Genesis car owners with online car sales platform
Client
Genesis
DIGITAL SERVICES AND SITES
CRM
WE HAVE CREATED AN UNIQUE PLATFORM FOR GENESIS BRAND CUSTOMERS
The Genesis Platform is a single ecosystem for customers, dealers and the automotive group. The platform combines online and offline processes in a single digital tool, providing full transparency for customers and the auto dealership.
The system includes the Genesis World - website for car owners, as well as the Genesis Showroom - online sales platform.
We have provided an administrative panel for car dealers to manage, analyze, and report. For dealers, there is a convenient system of personal accounts to automate work with customers and to process incoming requests for vehicle inspections, test drives, and car sales.
Website design
UX/UI
Analytics
Back-end development
CRM
Genesis World is a personalized platform for Genesis owners. It takes the user's interests into account and tailors specials and features to their needs. The process begins as early as registering and adding a vehicle on the lending page, where the user can learn about the benefits of Genesis World.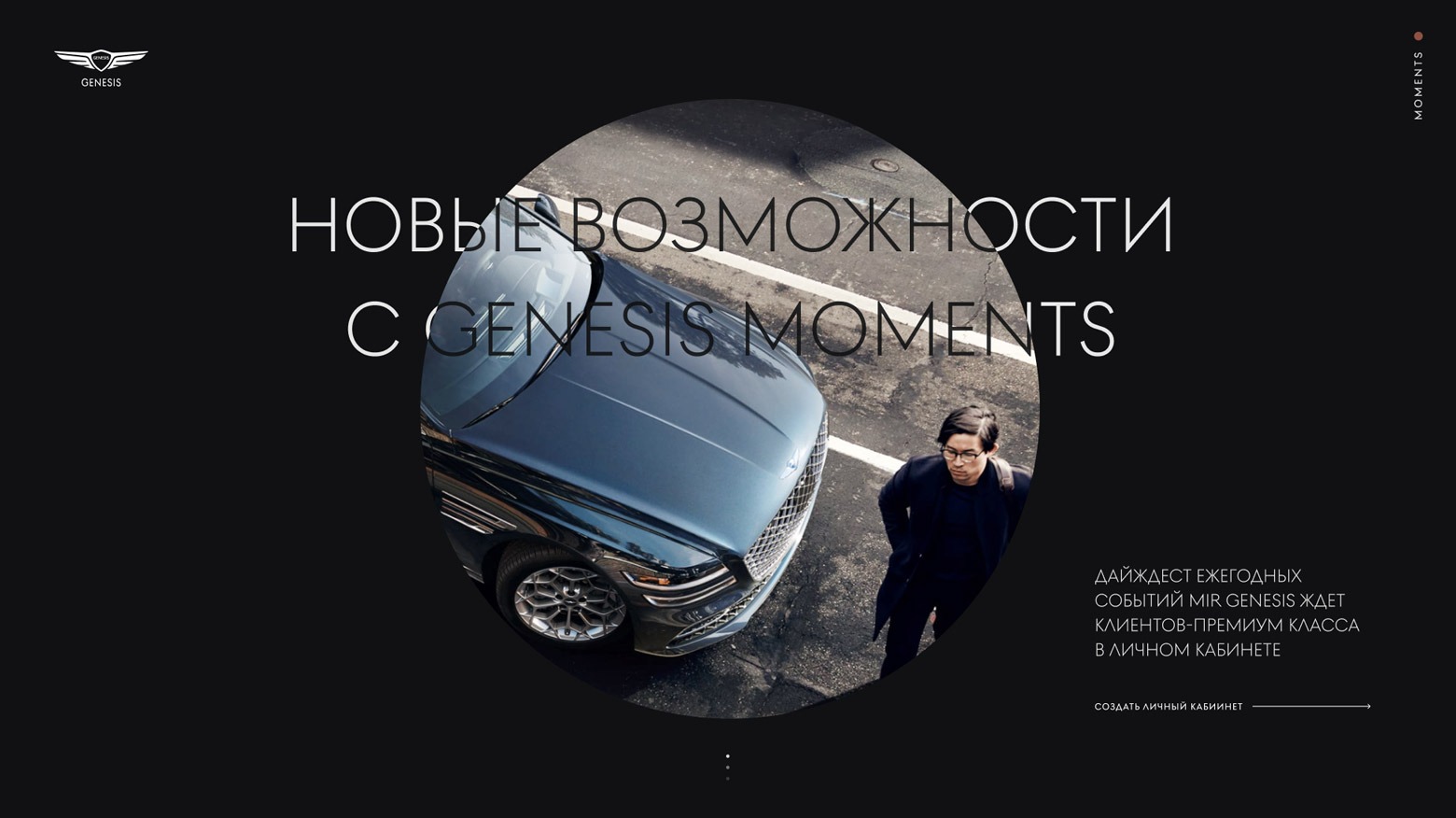 The Genesis World homepage adjusts to the user. For example, an owner of an older Genesis model, seeing trade-in offers, can calculate credit for the new model or sign up for a test drive. An owner of a new model can update the mileage, sign up for an inspection and download the service book.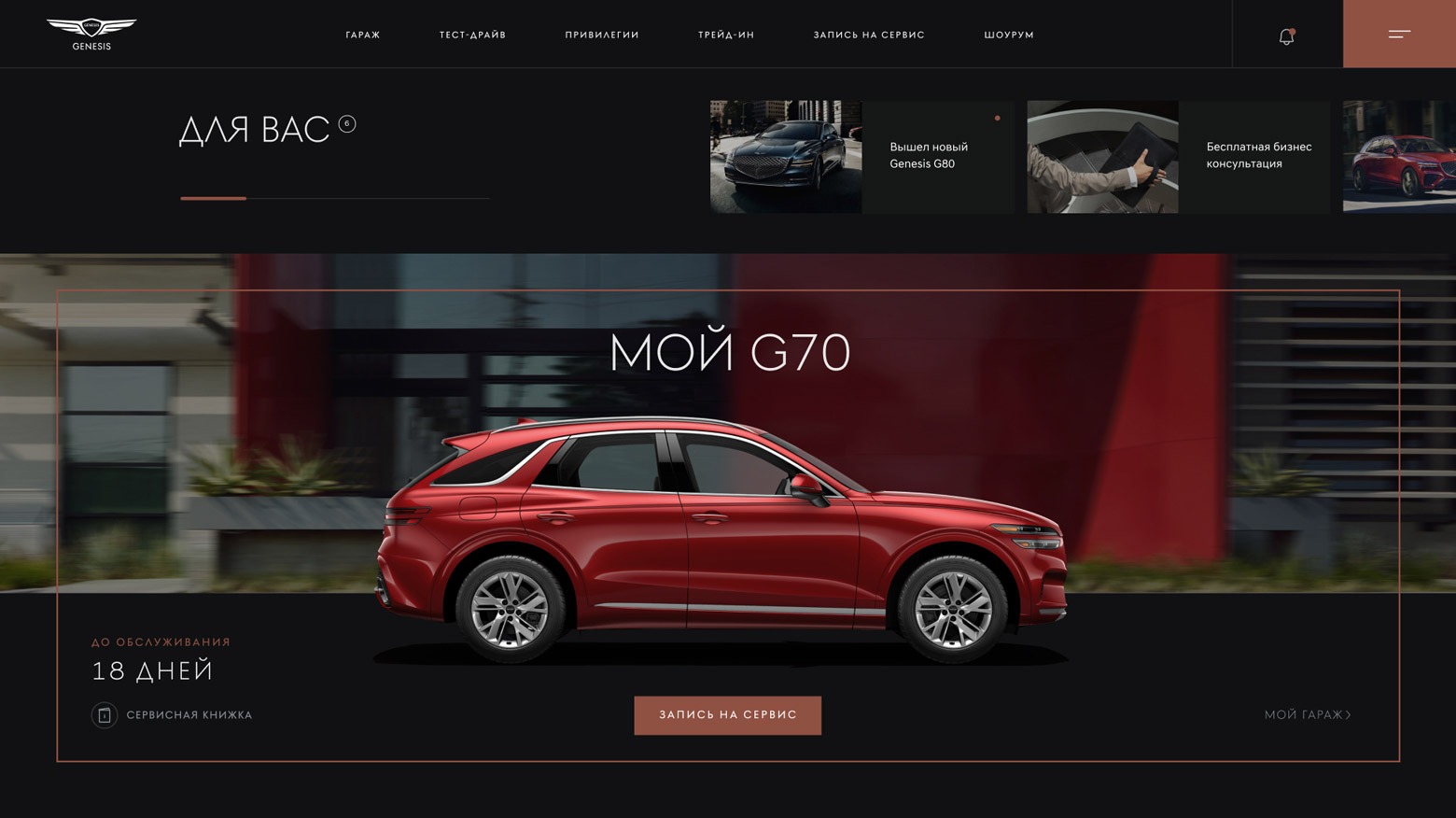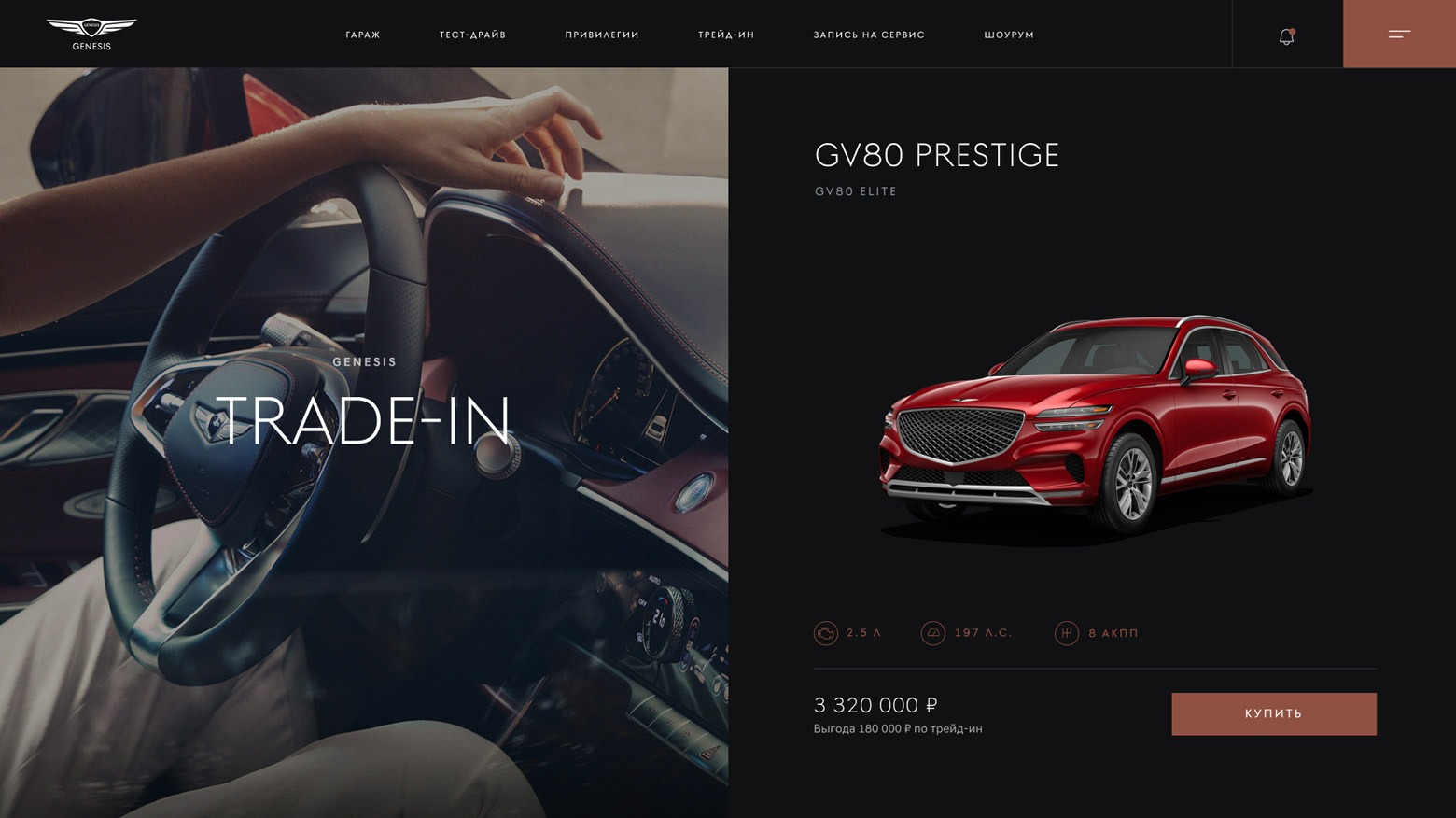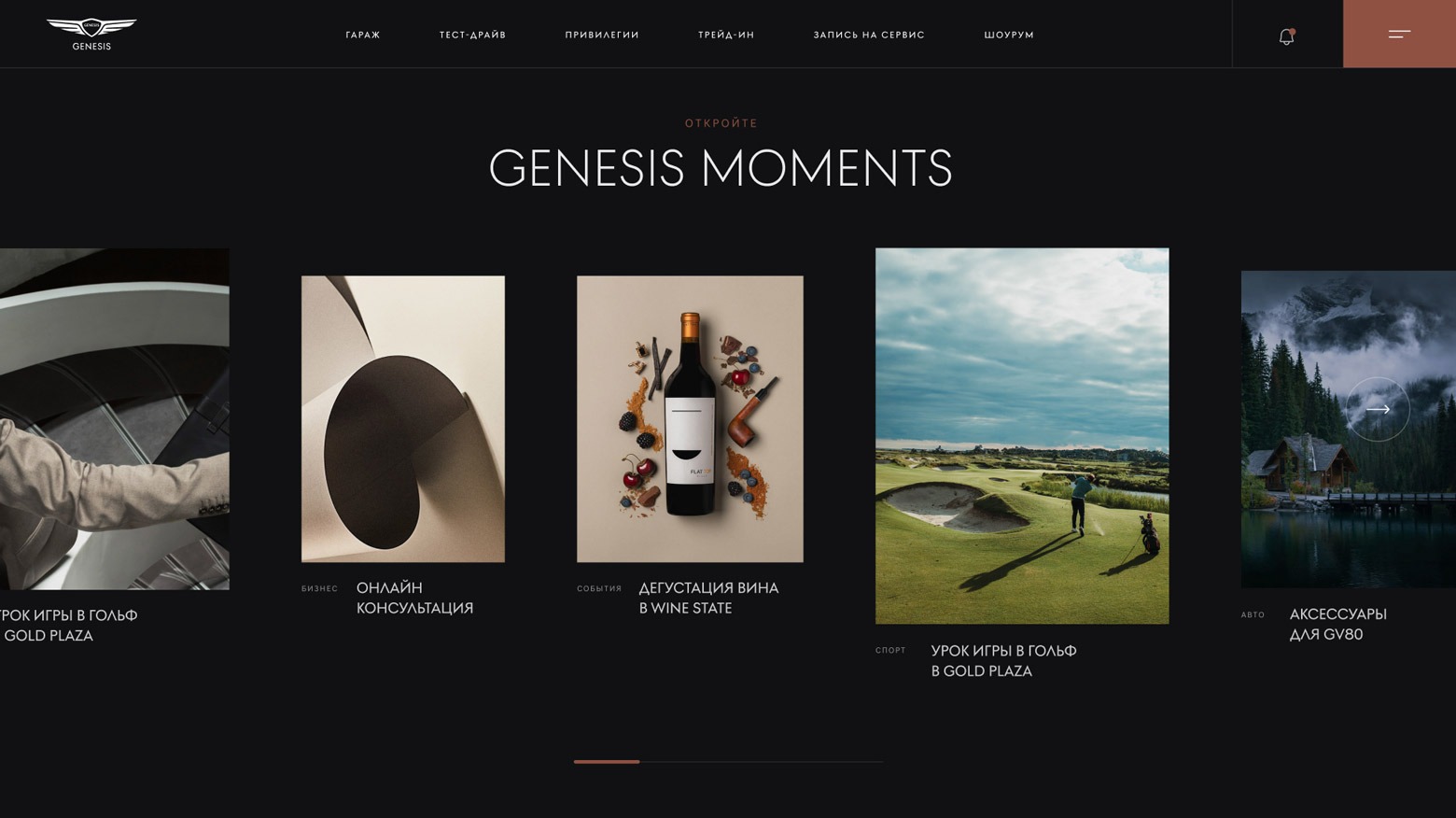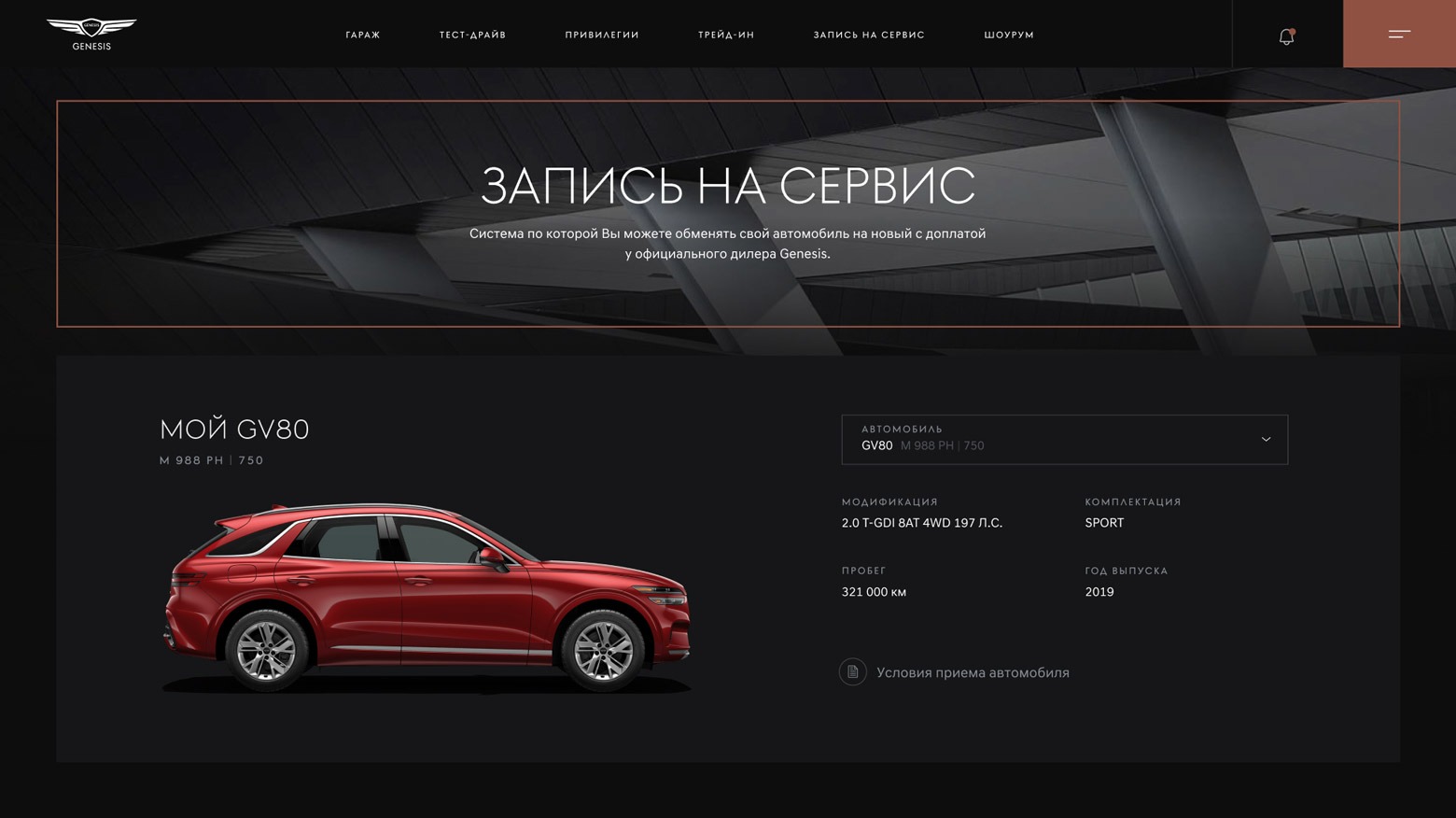 All features of Genesis World are available in the iOs and Android mobile app. Users can always check information about their car, sign up for an inspection or test drive, find the nearest dealer, and receive notifications of all changes and recordings.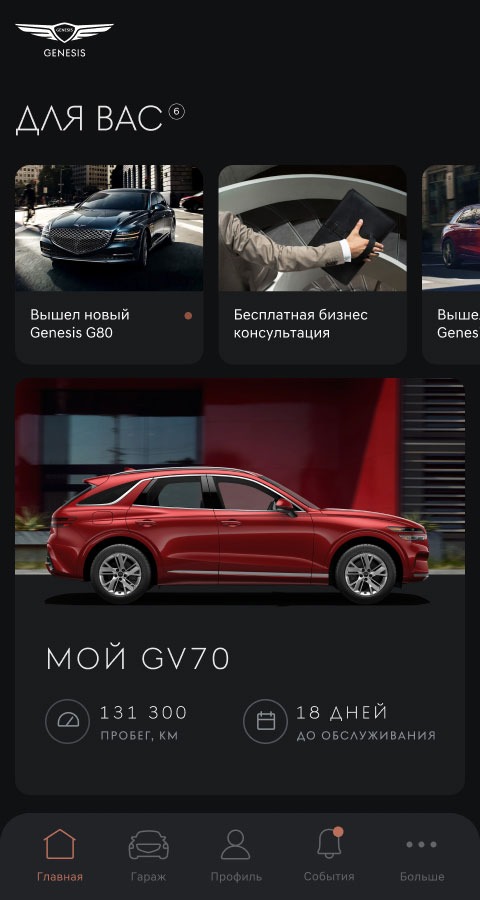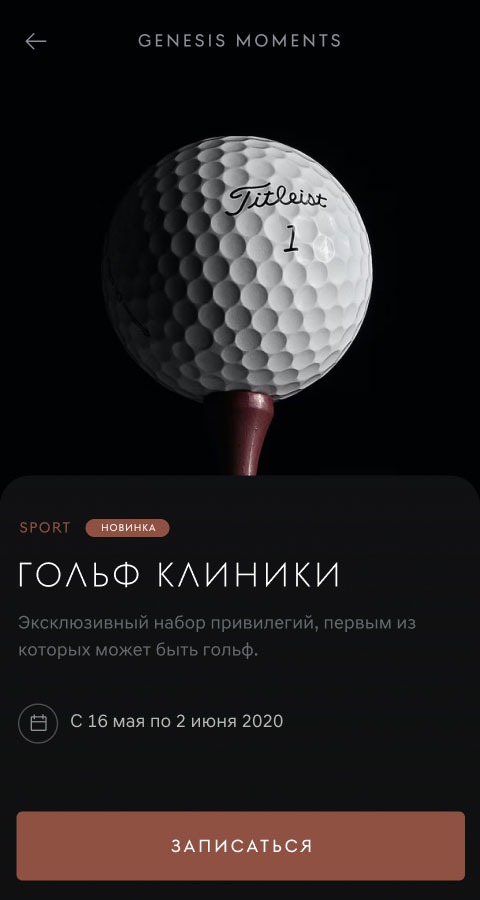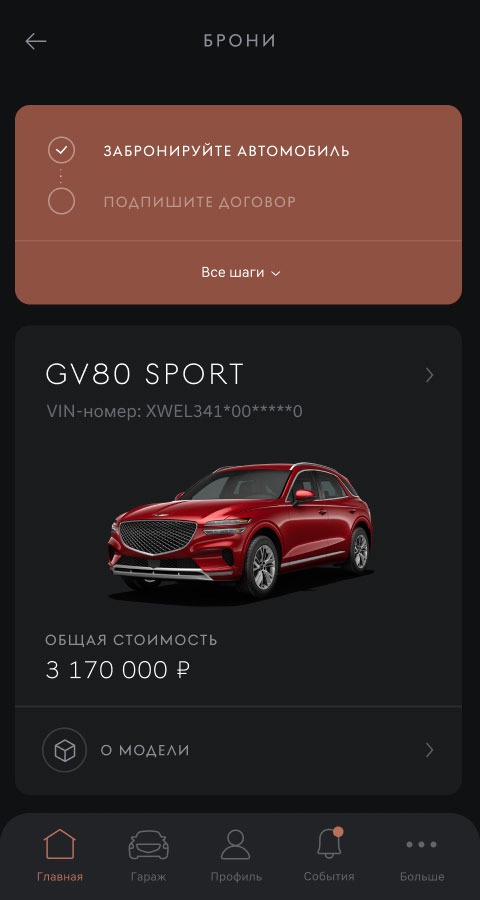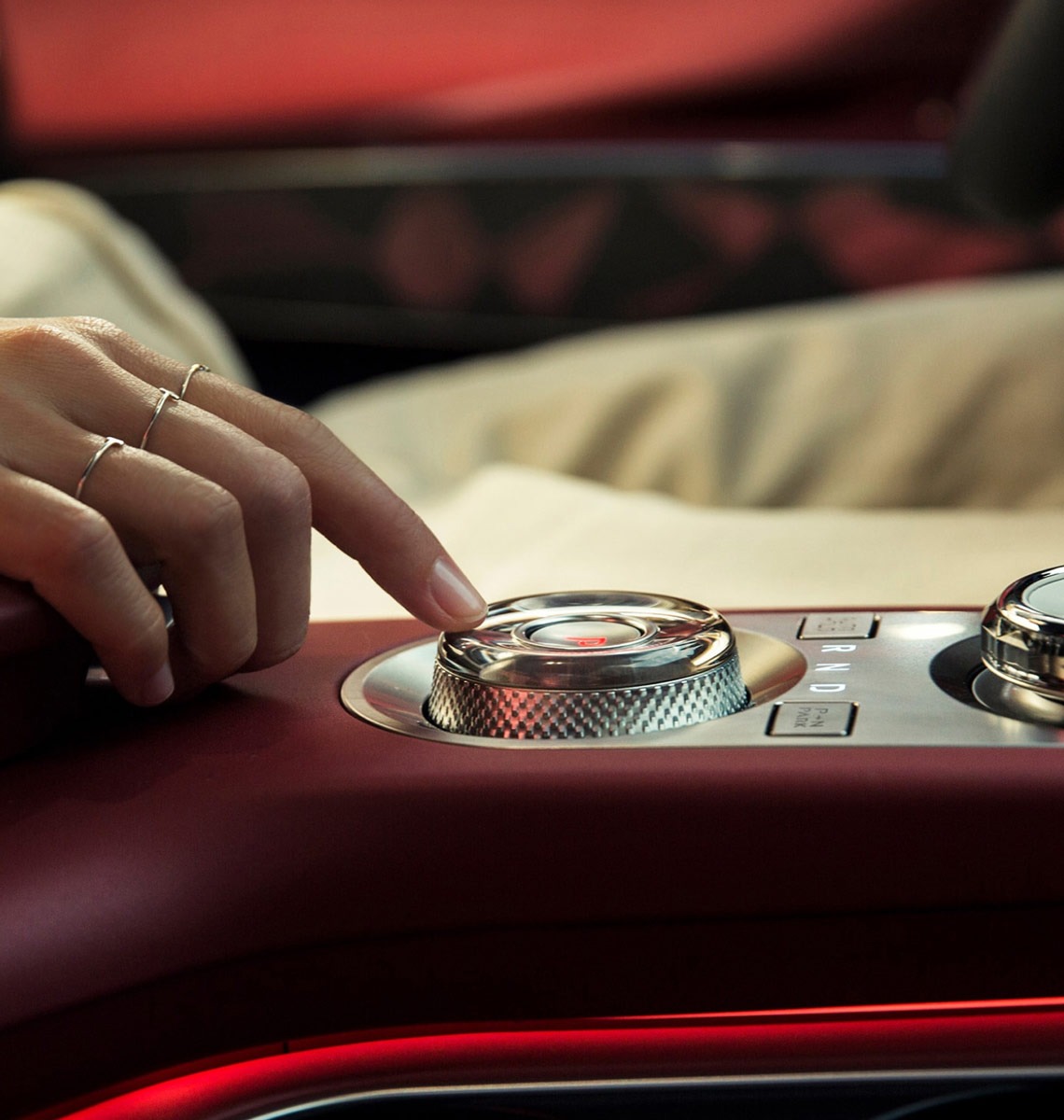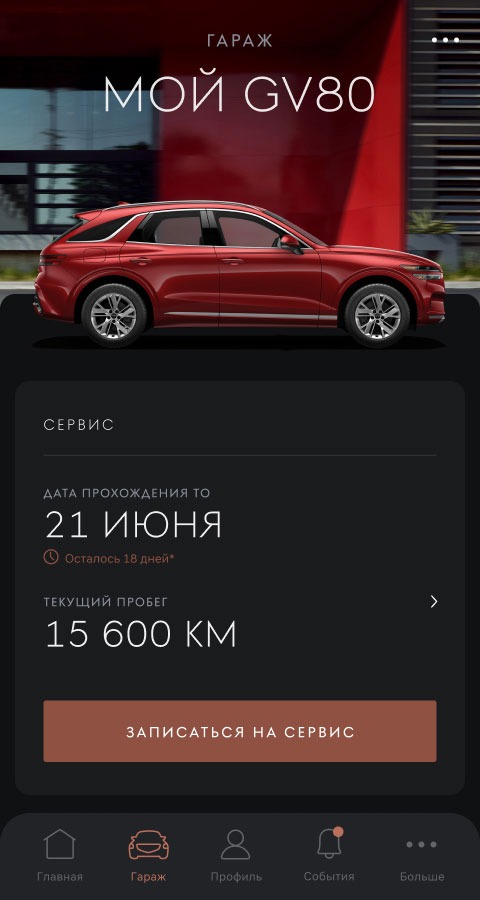 The Genesis Showroom site not only allows you to select and reserve any Genesis model, but also to calculate credit, add insurance, sign a contract, pay in full in a convenient way, and then choose when and where to pick up the car. The Genesis Showroom platform unifies the user experience, whether the user is shopping for a vehicle at a dealership or online.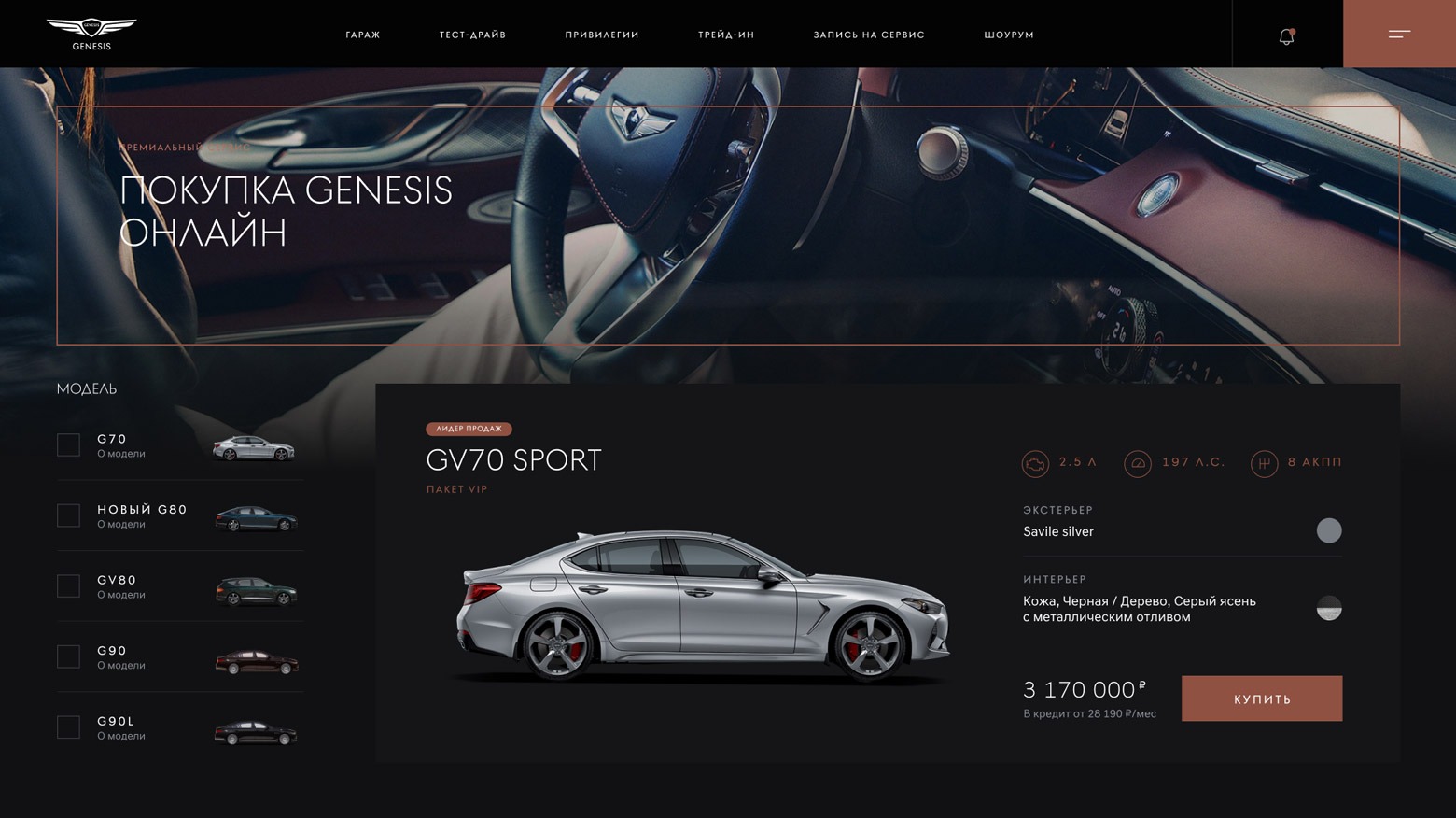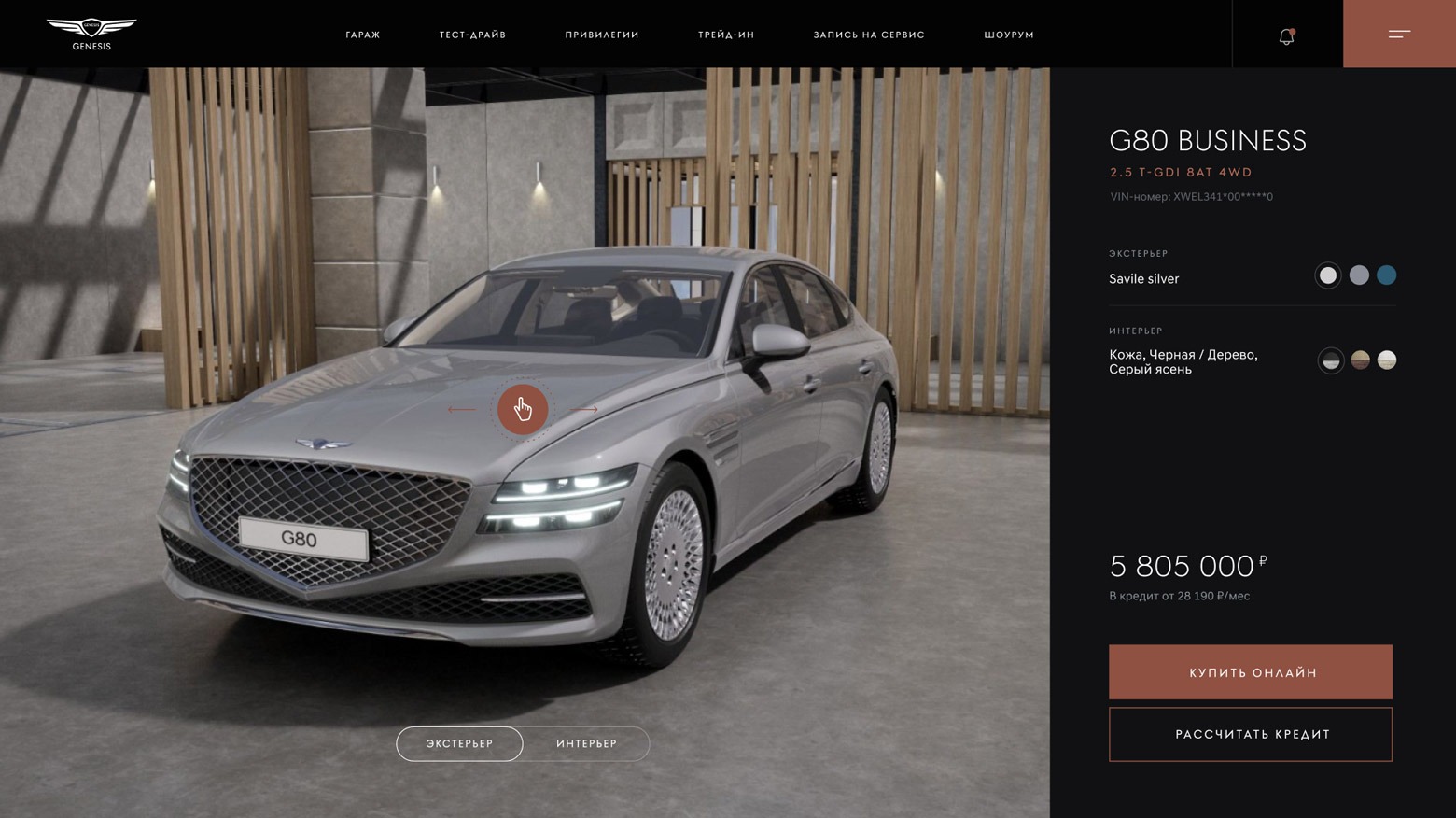 ABOUT THE PLATFORM
We have developed a unique "all-in-one" system for Genesis owners, the automaker, and dealers all over Russia.
Alisa Gvozdova
Project manager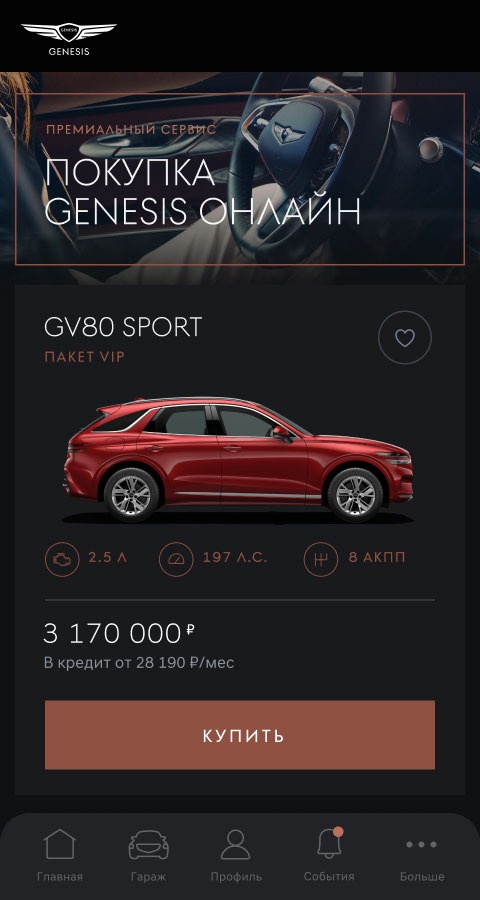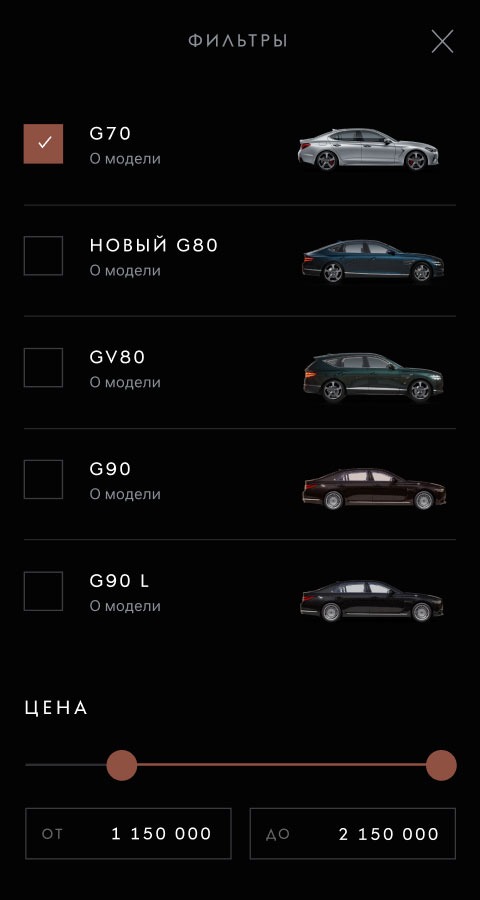 The total number of Genesis platform users is more than 25 thousand. Of those, 85% actively interact with the site. On average, users browse five pages per session.
USERS
Total number of users
ACTIVITY
Users actively interact with the site
Alisa Gvozdova
Project manager
Alyona Erofeeva
Project manager
Anastasia Khristoforova
Designer
Vladimir Chernyatovich
Head of Development Department
Vladislav Yaremenko
Project manager